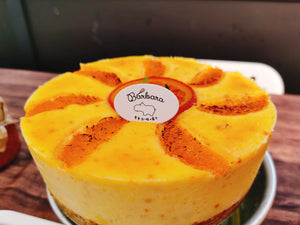 🍊橙子•米芝士蛋糕🍊
假日留在家烘焙是一件多么疗瑜的事吖
这款做法简单也可以作为假日时的亲子烘焙活动
这次芭芭拉选用法国顶级芝士与日本米粉的为重心的一款甜品. 入口即化超酥脆的米饼干作为底层,阵阵米香涌出来...
清新的橙子香气与特浓郁芝士蛋糕
有着强烈的对比!这样的搭配浓而不腻
一入口就瞬间征服了向来对橙没感的人💗
加上微微炙焼的橙子卖相层次感提升up
整体感觉无可挑剔! 
好吃到我真的不敢再做了, 
不然我肯定会把它吃光😝
🍊Orangette Rice Cheesecake🍊
It gives such a relaxing feeling to be at home baking during the holidays. Baking this cake is so simple that even your kids can help out. Top-quality French cheese and Japanese rice flour is used to make the cheesecake.
The super crispy rice biscuits at the bottom melts in your mouth as the fragrant of the rice fills your mouth. This cheesecake is extra rich but at the same time has a strong aromatic orange taste! Because of that, many cant keep their hands of it and even people who do not fancy oranges will have a go at it. 💗
Pair it with a couple of scorched oranges to make the cake more flavourful.
It's so delicious that I really don't dare to make it again, otherwise I will definitely eat it up 😝