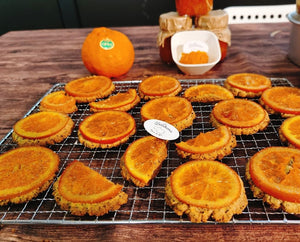 🍊宮崎红茶橙子米曲奇🍊
クッキー・オレンジピール入り
采用了密密麻麻紅茶的宮崎県産高级有機紅茶叶
来制作这款upgrade版橙子•红茶米曲奇.
而这种飘洋过海来到芭芭拉•工房的优质茶香味
再跟经烘烤后糖渍橙片结合成为另一款最有特色米甜点,
每口都独立吃出不同食材的风味而不抵触感觉,
新鲜出炉时质感极为松化也具备"橙"次感.
隔天翻热后外酥内软简直收买人心啊啊啊!!
这堂线上课程会教大家如何逐步
完成这款日本人气米曲奇哦
赶紧报名学起来可以做给朋友分享或让它成为你的下个爆单menu
🍊Miyazaki Kocha Orangette Rice Cookies🍊
The densely packed high-grade organic black tea leaves from Miyazaki Prefecture are used to make this upgraded version of orange and kocha rice cookies...
This high-quality imported black tea used by the Barbara Baking Studio is combined with the baked candied orange slices becomes another most distinctive rice dessert. With each bite, you can taste the flavour of different ingredients independently. The freshly baked cookies give multiple tastes and texture that blends well together.
Reheating it on the next day makes the cookies crispy on the outsides and soft on the insides!
In this online class we teach you step by step How to make this Japan Rice Cookies
Quickly sign up and bake it for you friends and family
For homebaker you can add this to your selling menu
To surprise your customers