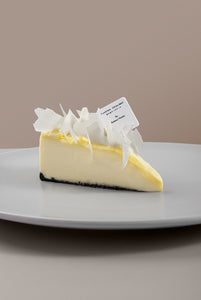 ◽ Toshima Chizu Keki 宫の森チーズケーキ ◽
By
Barbara Michiko
注入了🇯🇵#日本宫古島の雪盐 的微咸芝士蛋糕,
每口带有若隐若现的海水塩の味✨
再与表层的 #帕马森芝士 奶酥结合~
免调温白い巧克力薄片不单是装饰作用,还是中和作用 😋令整件甜品 #咸甜品适中 的关键食材......
当然 creamy #流心 层芝士蛋糕才是重心喇
这款使用 法国 Elle & Vire 奶香与芝士味平衡的 creamcheese🧀
口感轻盈不腻. 让人吃完一口,又会再期待下一口...的难忘经历! 🤠
一件不纯粹单用芝士攻击味蕾的cheesecake,
而是着重表现出当中不同食材之间紧密联系,#整体搭配完全无违和感.
至于味道是怎样?相信大家已心里有数🤎
◽ Toshima Chizu Keki 宫の森チーズケーキ ◽
   By
   Barbara Michiko
A slightly salty cheesecake infused with 🇯🇵#Japan Miyakojimaのsnowy salt
Every mouthful has a faint taste of sea water ✨
Then combine with the #Parmesan cheese s on the surface~
The compound white chocolate flakes are not only decorative, but also neutralizing as well as the key ingredient to make the whole salty dessert moderate...  
Of course creamy lava layered cheesecake is the focus point. 
We are using French Elle & Vire Creamcheese to balance the creamy and cheesy flavors🧀
The taste is light and not greasy. After one bite, you will look forward to the next bite... an unforgettable experience! 🤠
A cheesecake that does not attack the taste buds with cheese alone,
Instead, it focuses on showing the close connection between different ingredients.
As how's the taste like? I believe you all have it in your mind 🤎