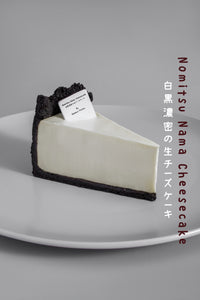 Nomitsu Nama Cheesecake
白黒濃密の生チーズケーキ 
Nomitsu cheesecake is different and special, the unique texture is different from the pudding or mousse texture of traditional no-bake cheesecake.
And our No bake Nomitsu Nama Cheesecake is smooth, creamy and dense. With a combined with handcrafted dark chocolate cookies, this dessert takes on the perfect balance of smoothness and creaminess.
白黒濃密の生チーズケーキ 従来の焼かないチーズケーキのプリンやムースの食感とは一線を画す独特の食感が特徴です。
そして、当店の「焼かないのみつ生チーズケーキ」は、なめらかでクリーミーで濃厚。 手作りのダークチョコレートクッキーと組み合わせることで、このデザートは滑らかさとクリーミーさの完璧なバランスをとっています.
Nomitsu芝士蛋糕与众不同且特别,独特的质地不同于传统免烤芝士蛋糕的布丁或慕斯质地。
我们的免烘焙 Nomitsu Nama 芝士蛋糕口感柔滑、奶油般浓郁。 结合手工制作的黑巧克力饼干,这款甜点在柔滑和奶油味之间取得了完美的平衡。